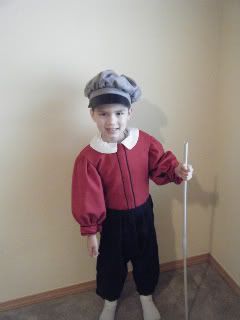 It is crunch time! I finished Noah's wool button suit this week and am ready to move on to the other projects on the crazy list. (I'm not sure what the stick is about, he thinks he is an explorer or something :) Our Spring events are always the hardest to predict weather-wise so we end up needing twice the clothing for either warm or cold!
We have a little less than 3 weeks until event season officially begins! After that it will be a whirlwind of camps, trainings and of course events.
Still on the long list of projects are:
Wool cap for Nate
Straw hats for both boys
A Wool overshirt for hubby
A hoop for me
Linen suit for Noah
And I'd love to get a new dress for me done, but I can't figure out when!
In the midst of that we have end of the year/wrap up transitions that are already beginning! If you don't hear from me, I'm probably sewing! I'm so excited for warmer weather and events to begin again!